Whether you want to take cues from the greats or forge your own path, we've put together a list of some classic and not-so-classic match ups to ensure you're not alone under the mistletoe this Holiday.
This one's pretty recognizable, an AC30 with the Burns Red Special and you can, you can rock us.
A tried and true matchup for the twang or keeping it swampy, but done in a little more modern way. '59 Bassman Clone w/ Spring Reverb and USA G&L ASAT.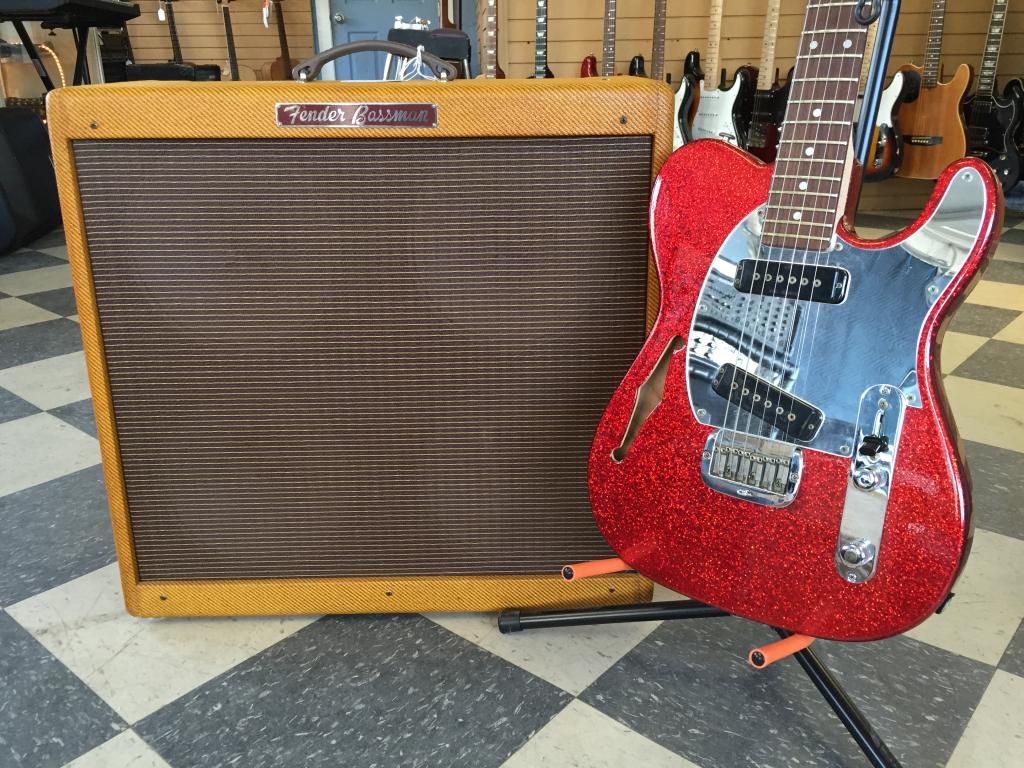 Here's one for the bassists: A Blackline SVT on a half-fridge with the buttery short-scale Musicmaster. It's like you always wanted a Fridge and P-Bass but enjoy having a lower back.
Keeping it jazzy is this 1951 National and '57 Gretsch Corvette, but don't think it's all Merlot and finger-snaps. You'll get a surprising amount of Cartwright-esque crunch from these guys all while looking oh so good.
Venturing back to the classics, how about a Drip-edge Reissue Twin with a "Western" Partscaster. Clean, loud, and punchy.
Don't think we forgot you '80s shredders/lefties! Here's a wild ADA Quad Tube 2×12″ and Lefty Ibanez S Series. All the gain/modulation/modeling you'd need, until Line 6 came along.
Okay these are just meant for each other – don't even try to fight it! 12-String Semi-hollow Bass and Kustom PA200. All the octaves!
Do you like to play chords? Do you like to play extended chords? Do you like to hear them? Here you go: a 1968 Super Reverb and an 80s L5-S, practically made for each other, a decade apart.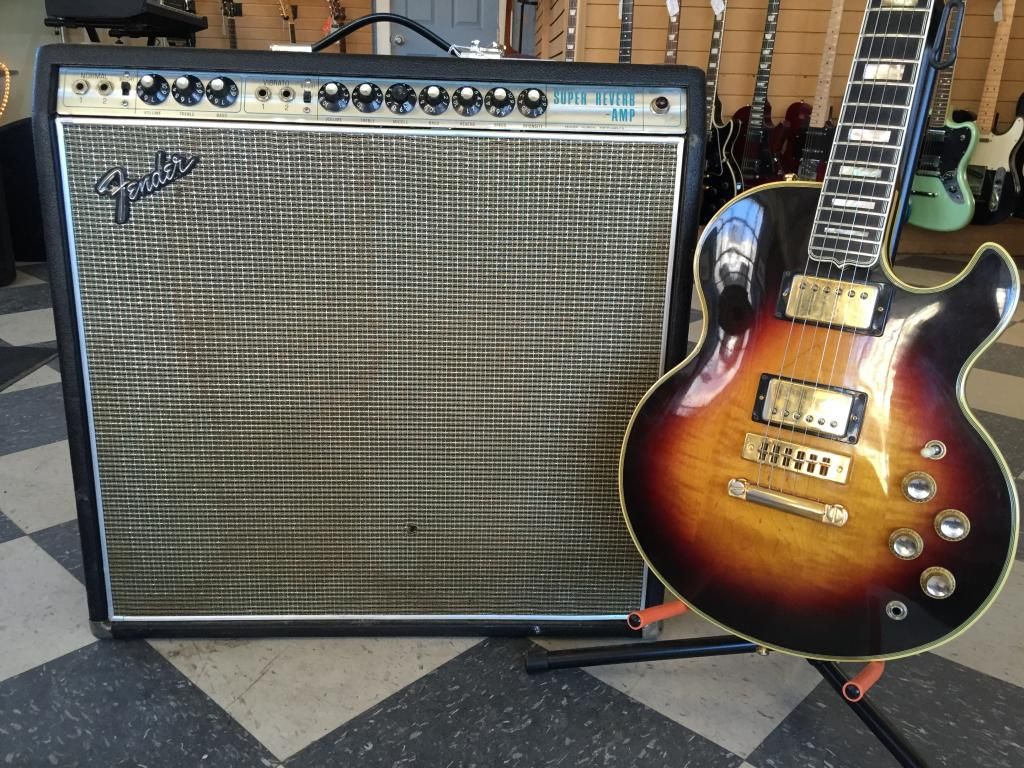 For those slightly off the beaten path, get into this '50s Bell Sound Tube PA Head. With a pair of 6V6s and this Stingray II you can go from shimmery cleans to great indie-rocking crunch.
If you're interested in beefing up your signal chain or you're in search of that special tone, these pedal combos will definitely get you somewhere.
Somewhat of an homage to Mr. Page with the Germanium Treble Boost a la Rangemaster (Pork 'n' Beans) and Uni-vibe, add a locally built Analog Delay (Moon Child) to the mix and you've got a great riffing/lead tone.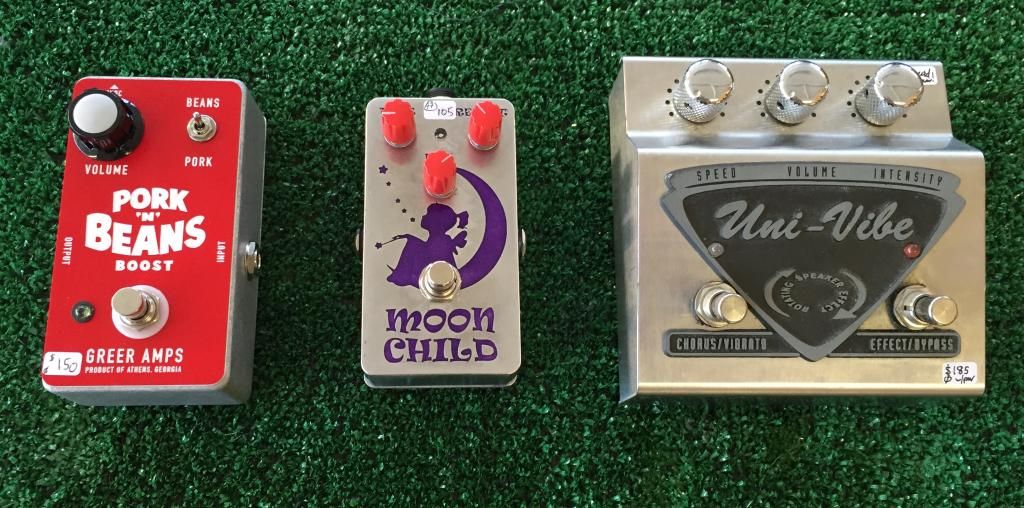 Inspired by Gilmour, the Fish Press (LA-2A-ish) plus Special Twosome (Modern Fuzz or Classic Muff-styles) and the El Capistan will have you slow-bending and space-vibing in no time.
This one's great for bass players and guitar players alike, whether you're getting psych'ed out or aiming for a J. White/D. Auerbach thing. Russian Big Muff + Octave Up? Yes, please.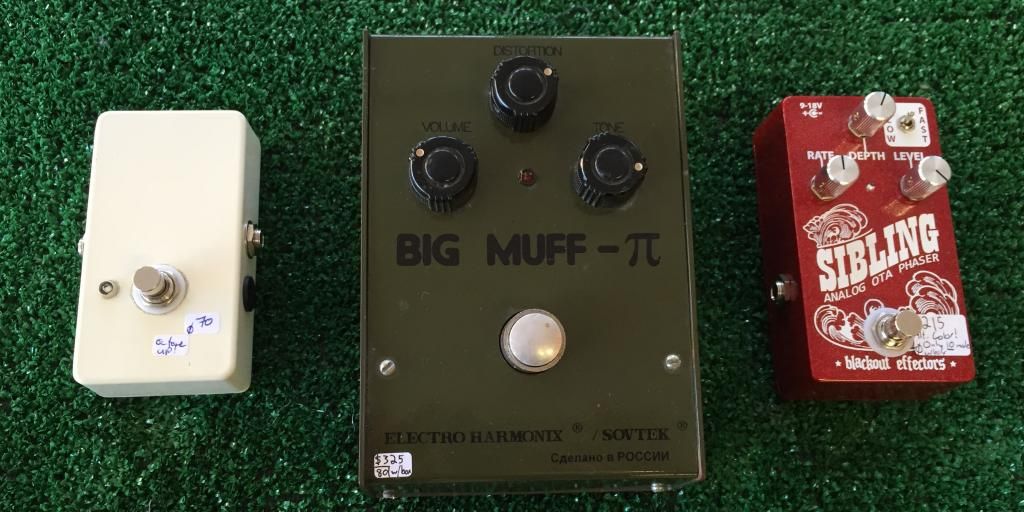 When you want results, stick with what's worked for 30+ years. The first overdrive offering, pre-Tubescreamer, with some mellow phase and added sustain from the Forest Green, you won't be disappointed.
Do you hate cleans? Are you never satisfied with how mangled your tone is? If you can't wreck something with this combo you should probably just quit.
 See something you like? Give us a call (828.254.0402) or send an email over to info@sherwoodsmusic.com. We've got layaway options so get in touch!